Careers Alshaya
The Alshaya Group is a large diverse business. We offer Fashion & Footwear, Health & Beauty, Food, Optics, Pharmacy, Home Furnishings, Leisure and Entertainment business.
Welcome to Alshaya Group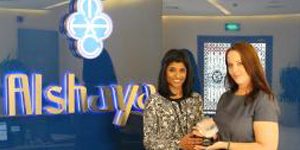 Alshaya is a multinational retail franchise operator headquartered in Kuwait and operates more than 90 consumer retail brands across the Middle East and North Africa, Russia, Turkey and Europe. The company currently operates more than 4,000 stores in seven sectors, Fashion & Footwear, Health & Beauty, Food, Optics, Pharmacy, Home Furnishings, Leisure and Entertainment and employs more than 53,000 people. From within its in-house team, Alshaya develops and markets these brands to the global market and has a reputation for incredible creativity and trend awareness. The company was founded in 1890, In addition to its retail operations, the Alshaya group has holdings in real estate, construction, hotels, automotive and general trading, largely centred in the Middle East. Its hotel division owns the Sheraton Hotel in Kuwait and the Oberoi Hotel in Medina, Saudi Arabia.
Why Choose a Career at Alshaya Group?
Global Reach: With operations spanning various countries and industries, Alshaya Group provides the chance to work in diverse settings and interact with people from around the world.
Passion for Excellence: Join a team that is committed to delivering exceptional customer experiences and upholding the highest standards of quality across its diverse portfolio of brands.
Continuous Learning: Alshaya Group places a strong emphasis on learning and development, providing you with ample opportunities to enhance your skills and knowledge.
Dynamic Industries: Whether your interests lie in retail, hospitality, fashion, health and beauty, or food services, Alshaya Group offers a range of industries to match your aspirations.
Current Job Openings
Embark on a journey of growth and professional fulfillment with Alshaya Group. Explore our latest job openings across various sectors:
Retail: Be part of a dynamic retail environment, working with globally recognized brands to deliver outstanding shopping experiences.
Hospitality: Join our hospitality sector to create memorable moments for customers in our renowned restaurants and cafes.
Fashion: Contribute to the world of fashion by showcasing the latest trends and styles through our diverse range of clothing and accessory brands.
Health and Beauty: Help customers look and feel their best by working with our health and beauty brands, offering top-quality products and services.
Food Services: Play a role in providing delightful dining experiences by working with our international food brands.
How to Apply
Taking the next step in your career journey with Alshaya Group is simple:
Visit Our Careers Page: Explore our official careers page to discover our current job openings and learn more about each role's requirements.
Submit Your Application: Choose the position that aligns with your skills and aspirations and submit your application through our easy-to-use online portal.
Highlight Your Potential: During the selection process, showcase your experiences, skills, and enthusiasm to demonstrate your suitability for the role.
Interview and Assessment: If shortlisted, you'll be invited for an interview and possibly an assessment to determine your fit for the position.
Join Our Team: Upon successful selection, you'll become part of the Alshaya Group family, contributing to our ongoing success and growth.
Finding your dream job is not difficult but you need to direct yourself with strong commitment and right efforts. Luckily, one day you will be able to earn money with a higher level of satisfaction and it will be true growth for your career. What are your interested jobs, click the below link and apply now>>>
CLICK MORE JOB
Current Opportunities
Career Page – Vacancies @ Alshaya | All Nations
Note: We are not recruiters ,instead we just sharing available jobs in worldwide,once you click on the apply/job title,will direct you to the career page of concerned job provider,so Gulfjobsonline is not directly or indirectly involving any stage of recruitment.